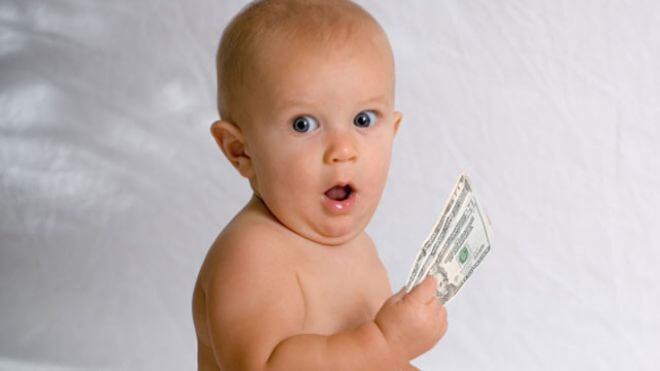 How Kiddicare Cocked-Up Their Migration to Dunelm.com
If you've kids, or have relatives/friends who do, you'll know that Kiddicare was yet another household brand to bite the high street dust and shut up shop. 10 of their 11 UK stores received the chop in 2014.
Once one of the UK's largest high-street baby retailers made the decision to become a virtually purely online retailer due to a change in consumer behaviour. Less customers buying from the high street and are instead choosing alternative online outlets. Nothing new there, then.
Kiddicare made another significant announcement recently too:
We're moving to our new home at https://t.co/lorBsnmUKJ! All of our favourite products are coming with us, so you'll still be able to shop a great range of car seats, pushchairs, nursery products and more. Your orders and returns won't be affected. FAQs: https://t.co/4E2Kc3uQvk pic.twitter.com/Z3vuoFnq6w

— Kiddicare (@kiddicare) July 19, 2018
Less than 2 years since announcing their move to online-only, it seems Kiddicare are on the move again. This time they're jumping in to bed with Dunelm. An unusual and slightly uncomfortable-looking move on the surface, at least to me anyway.
However scratch at the surface a little more and you'll see that Kiddicare was acquired by the Dunelm Group of companies (Worldstores) back in 2016. Maybe not such a daft move after all, then?
Anyway – what's surprising is with Kiddicare practically being an online-only, multi-million pound retailer, you'd think that the business would be extremely keen on keeping a very close eye on such a major transition to its new home; allocating the necessary funds, resources and people to the right places to ensure a water-tight transition.
Well – erm, no. Not exactly..
Kiddicare moved dunelm.com on Thursday 26th July
…and it hasn't appeared to have got off to the best of starts.
Here's an email I received on the Friday morning: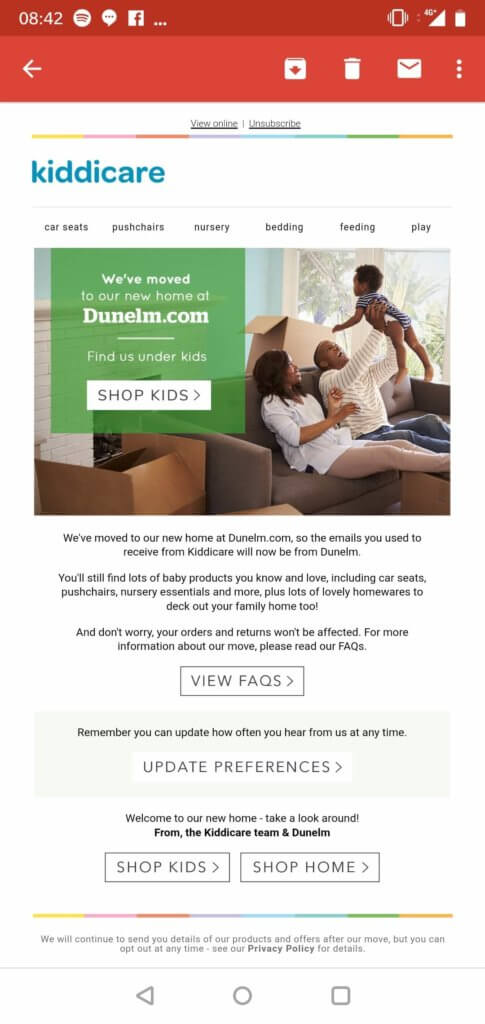 Naturally, (as I imagine most people would have done) I'd clicked the CTA (call-to-action) on the hero image. I was immediately presented with a far from ideal 404 page. Not a good look for one of the most important emails the brand's probably communicated. Whoops!
Squeaky bum time for someone in their Marketing department…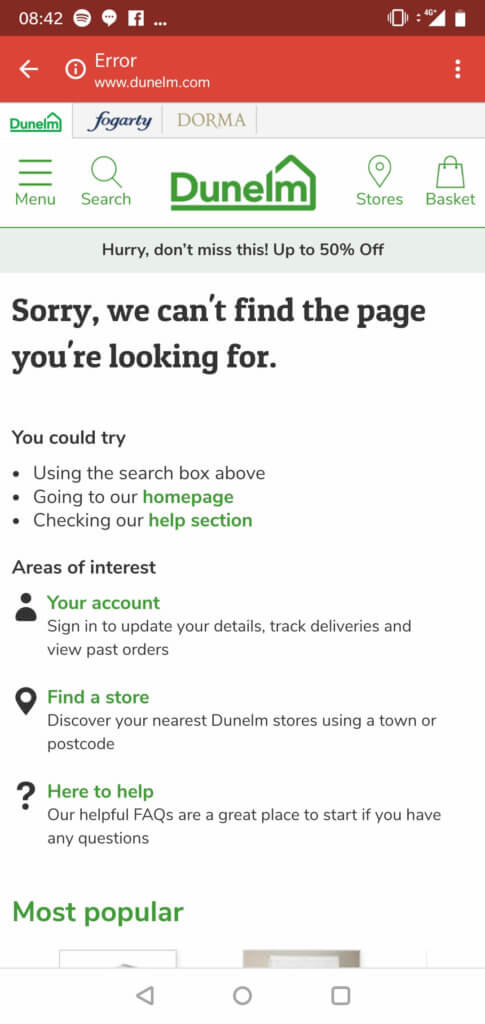 Shortly after, I dropped both Kiddicare and Dunelm a tweet to make them aware of their embarrassing situation, Dunelm were quick to respond. Although they fixed the 404, the choice of landing page is questionable at best. Sending visitors from that email to the Dunelm home page seems almost as bad!
Hi Luke,

We are currently aware of this issue and are actively working to have this resolved and directed the correct way, thank you for the heads up 🙂

Kind regards,
Ethan

— Dunelm (@DunelmUK) July 27, 2018
If we take a closer look at the redirection path from that email, the mess of this transition to Kiddicare's new home starts to rear its ugly head.
Below is a screenshot taken from one of my favourite Chrome add-ons, Ayima Redirect Path Chrome extension.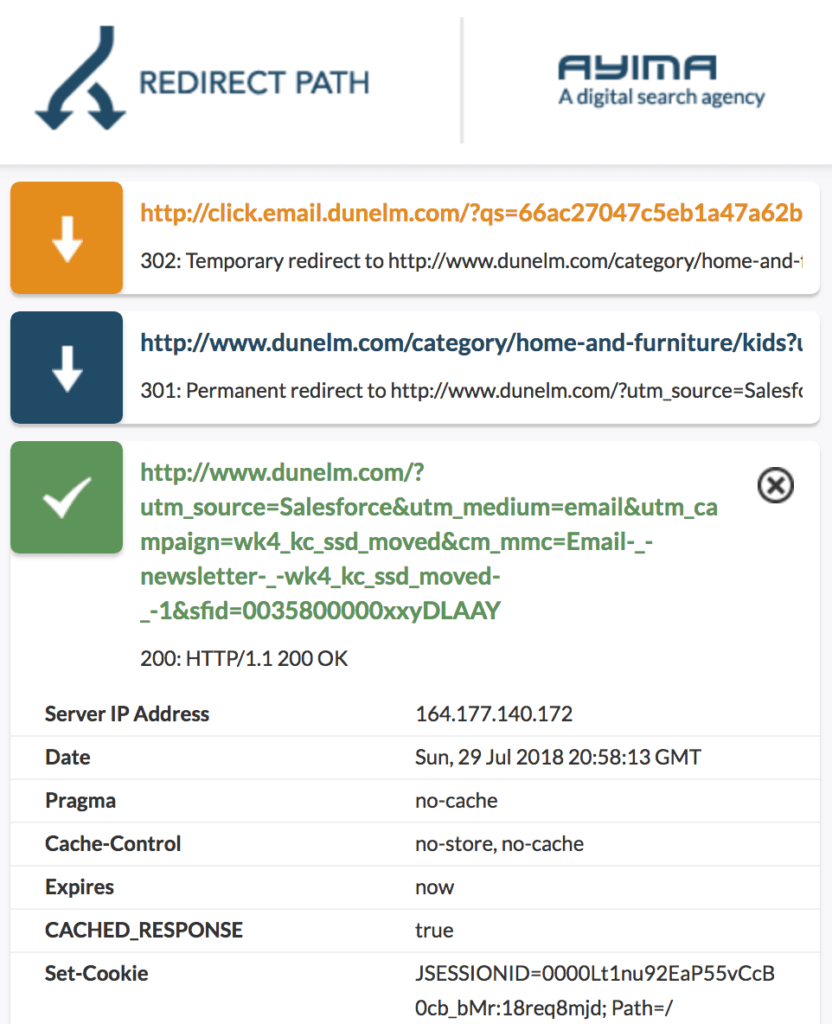 It seems whoever originally created the email had cocked up the landing page URL, or the page simply wasn't put live prior to the email being sent out. Whatever the problem was, it clearly stinks of poor planning.
It appears rushed, departments likely suffered from miscommunication and this pivotal email had suffered as a result.
But I'm only just warming up…
So let's take a closer look at the kiddicare.com domain name itself..
The good news is the kiddicare.com domain 301-redirects to the right place on the dunelm.com domain: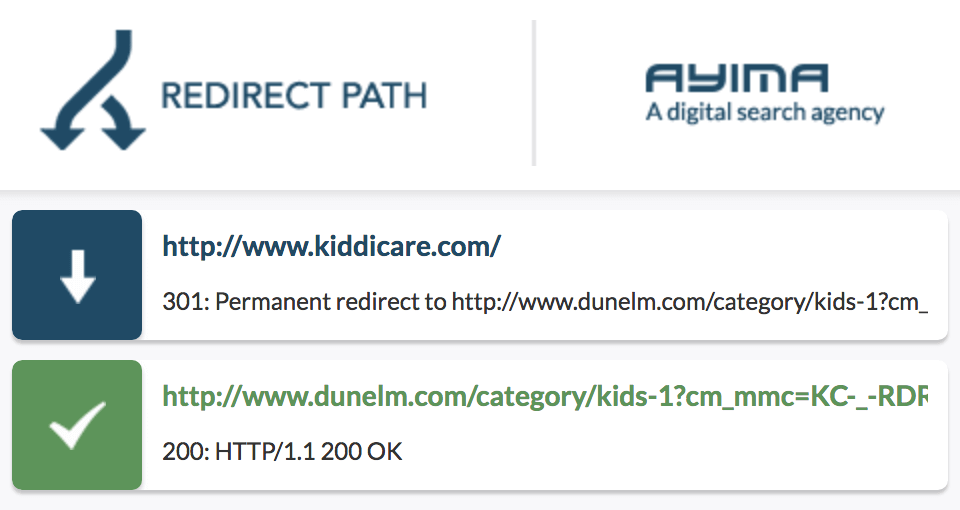 But that 301 redirect of their root domain seems to be where the good news started and now ends for kiddicare's site migration.
Let's take a look at the top three traffic-yielding and most revenue-generative pages for the kiddicare.com after the home page according to AHREFS:

It's clear to see that their most powerful pages are parent category / department pages according to AHREFS.
Now, if you take a look at this snapshot from Wayback Machine, you'll be able to see that Kiddicare themselves link internally to their categories with non-www URLs. For example, https://kiddicare.com/category/pushchairs.
Punch that URL above in to your browser and you'll quickly be presented with the problem, 'too many redirects':

AHREFS reports that there's only a single referring domain to this non-www pushchairs category URL, so not the crime of the century in terms of backlink collateral. However this oversight could cause a number of complications for Kiddicare customers. For example, those that have bookmarked these non-www links, are clicking links in old emails or links in social media posts etc.
It's not only non-www URLs that are impacted
It's not just non-www category URLs have been neglected in the migration. I've only tested a handful of examples (some of which are listed below), and it appears that all non-www kiddicare.com URLs have been blanketed with the same 'too many redirects' error.
https://kiddicare.com/product/bizzi-growin-little-show-stopper-bumper-red-442460?product-id=846026
https://kiddicare.com/x/bathing-and-changing-buying-guide
https://kiddicare.com/x/about-us
Just how big of a mistake is this oversight? How does a broken link from paypal.com sound?
Below is a screenshot taken from AHREFS. Although the traffic is minimal (likely a result of Kiddicare's canonical tags pointing to www-based URLs), the sheer number of backlinks and referring domains that are currently in a black hole is a concern:

What's even more sobering is there are a number of dofollow backlinks from referring domains that many of us would kill for, including dofollow links from paypal.com and nytimes.com.
So, what about redirected www-based category URLs?
In summary, they're better – in the fact that the redirects work, but they're still a world away from best-practice migration.
It's no secret that multiple redirect hops between a source and the final resolving URL weakens any passed page authority. Well, wait for it…
Kiddicare category URLs have a ridiculous 20 redirect hops when 301 redirecting to dunelm.com
It's tricky to capture the entire chain with a screenshot but a snapshot taken from my Ayima Chrome extension demonstrates the sheer length of the redirect path: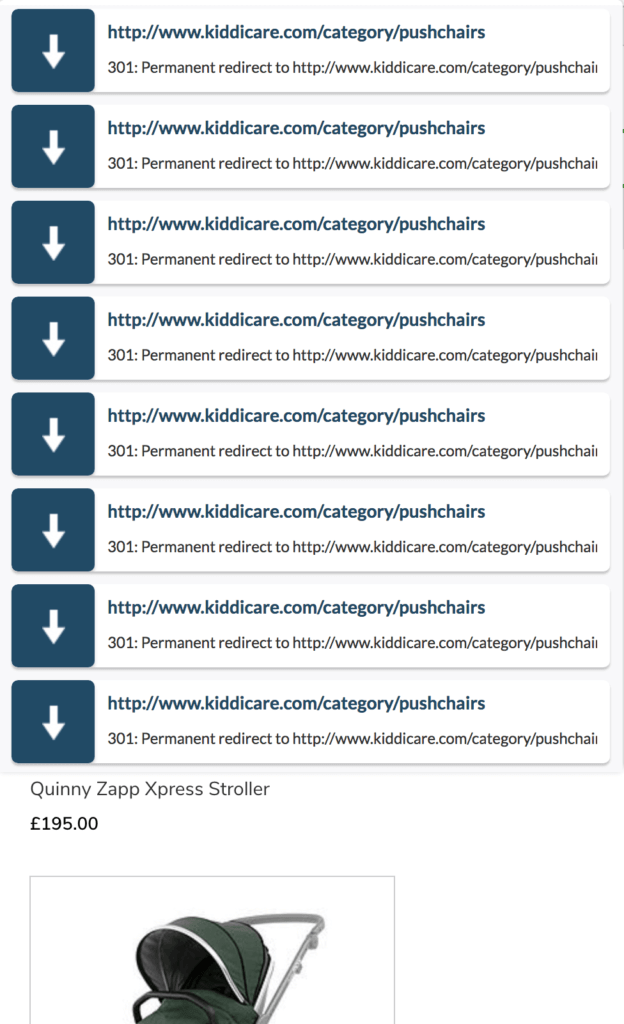 The good news is, these redirect paths resolve eventually, but with 20 hops between a kiddicare.com page through to a dunelm.com, any passed page authority is likely to be dramatically reduced. The redirect destination on Dunelm.com website seems a good fit too.
Ok, what's the state of product to product redirects?
Very few product to product redirects appear to in place. I managed to capture 947 product URLs in AHREFS (I believe Kiddicare previously had in excess of 8K products) and proceeded to crawl these with Screaming Frog.
Only 12 of them redirected to an equivalent product URL over on dunelm.com. Besides a small bunch of 503 errors, the vast majority of these URLs were pointing to category URLs over on Dunelm's website.
It appears Kiddicare have only built 1:1 301 redirects for cherry-picked items and not their entire catalogue of products.
One theory for this is as part of the move, Dunelm may have slashed the overall Kiddicare product range, so it's not clear whether this redirect strategy was intentional without analysing more product URLs. Either way this will likely impact 100's if not 1000's of Kiddicare's more granular, long-tail keywords and doesn't offer up the best UX for visitors and customers.
There's just one last kick in the teeth, HTTPS.
When it was live and right up to the point of their migration, kiddicare.com was a secure website, running on a valid SSL certificate. dunelm.com is not. Although I'm sure dunelm.com have their reasons for delaying their transition to HTTPS, the move from a secure to a non-secure domain is unlikely to see the baby retailer get away scot-free without some sort of organic traffic hit.
In summary…
It's no surprise nor secret that Kiddicare is in a hugely competitive space online and that they're already feeling the pressure from changing consumer habits and additional pressure from their competitors. Closing down stores and migrating away from their own independent website is proof of this. Mothercare are another key retailer feeling the pinch.
Which is why it's hard to understand why Kiddicare appears to have neglected such a pivotal point in their digital roadmap; their online migration. There's a chance that all of the above (and possibly other SEO gremlins) will be fixed in due course and this point in time is simply a work in progress / worst-case scenario. But any SEO worth their salt knows big companies can often fail to take their SEO seriously and can 'brush-off' the dangers and risks associated with doing so.
They choose to rest on their laurels, assume their household-brand status will steer them past the obstacles of poor-practice SEO. Or sometimes it's just a case of there's bigger fish to fry. More pressing / seemingly-profitable objectives and projects taking precedence.
Kiddicare has taken a big enough beating over the last few years. Let's hope these issues highlighted above are mere hiccups in their transition pending repair and aren't forgotten or fail to ever be discovered by their respective digital teams.
At least for now, Kiddicare is still breathing. Let's hope these transitional war-wounds don't prove to be fatal.
Ultimately, does babycare fit the Dunelm brand?
Was it the right decision to move Kiddicare.com to Dunelm.com in the first place?
Have Dunelm missed a branding opportunity to rebrand Kiddicare in to Kiddicare by Dunelm or similar?